Members of King's College came to work with Year 1 to Year 6 to investigate light.
On Monday, the whole school got a once-in-a lifetime opportunity to discover the world of "Glow In The Dark" science. During the science workshop, brain scientists explained to us that jelly-fish have a fluorescent protein that could be injected into a zebra fish, fruit flies and maggots. We also had the privilege of going to different stations and taking a look at what the Brain Scientists from King's College were looking at. They've inspired many of us to take science at Secondary school and perhaps pursue a science career. Thank you, King's College.
Victoria, Year 5
On Monday, we had to go to a Science workshop about Glow in the dark. We looked at fruit flies under a microscope. We got split into 5 groups and each group had a chance to go on all stations.
On our second station the brain scientist gave us glow sticks as wrist bands. We looked at a mouse's brain in a camera. It had some weird objects on it and that was pretty much the whole workshop.
By Zach, Year 4
On Monday we went to a science workshop about Glow in the Dark. we got glow in the dark bracelets and got to look at amazing bees through a real microscope! We pretended to be a vet and pull out the bad bits of a rat's brain! They use glow in the dark science to see nutrients in the brain!
Samuel, Year 4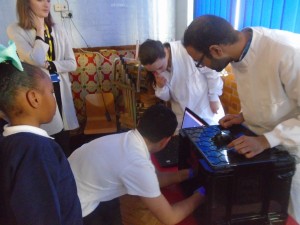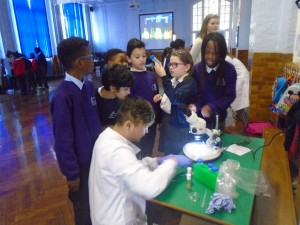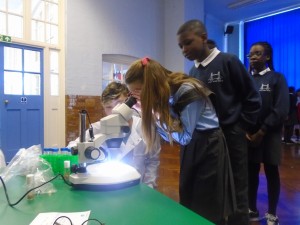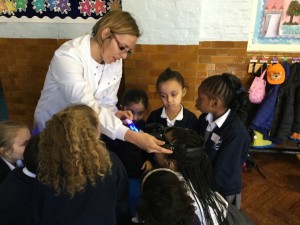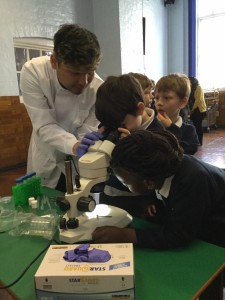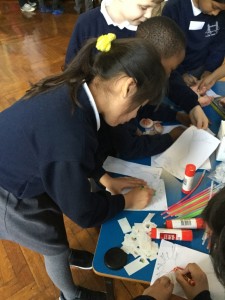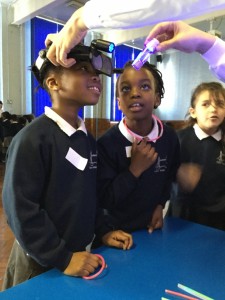 Last week we celebrated World Book Day across the federation.
All the children spent the day making their reading and book corners more inviting and engaging with the new books they had chosen. Thank you to our partner,  Norton Rose Fulbright for donating money towards this treat.
The employees of Norton Rose Fulbright will be voting for the best book corner transformations over the next few week, the winning classes will win a special prize.
Here are some of the things the children and staff had to say at Tower Bridge:
I had fun on World Book Day. We did lots of reading as this is what World Book Day is about. I dressed up as Batman! We got new books for our classroom. I felt so excited because there were books I hadn't read and there were some I didn't know. I took one home and shared it with my mum.
Leroy
Everyone's costumes were stunning. I was Harry Potter. He's my favourite character. I had so much fun.
Marwan
Last Friday everyone in school dressed up as their favourite book character. We had a chance to read spectacular new books. World Book Day is about celebrating all the memoires, novels, non-fiction and fiction books around the world having fun just while reading them. It is very important to read books because they can help you improve on your speech and writing during school and in life.
Hannah and Alexis
On World Book Day I was Mrs Twit and helped organise the book corner. We even got to make our own book marks which was so much fun. Then we coloured butterflies different colours and we got our new books. The books were delivered and wrapped up. We had Horrid Henry, Roald Dahl, Jeremy Strong and David Walliams. We all got to take a new book home to read.
Sharon
Children were happy to get new books. They were excited to put their own ideas into the class book corner.
Sarah Maugey
The children all looked fabulous! They enjoyed making their props to decorate the book corners.
Lisa Rowland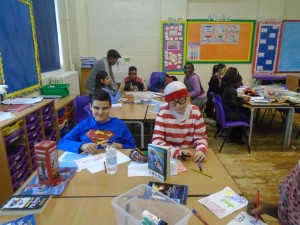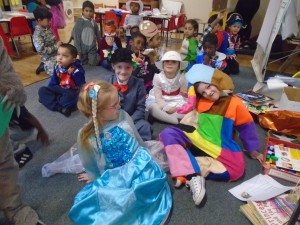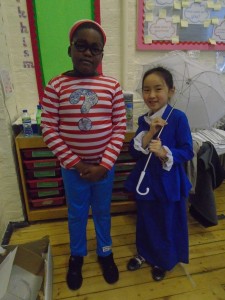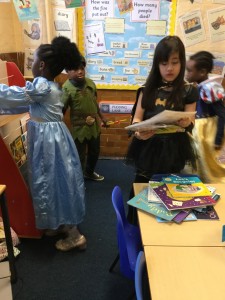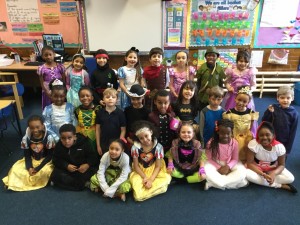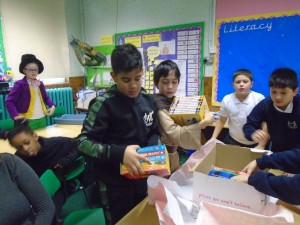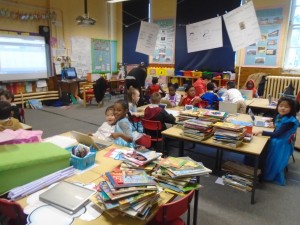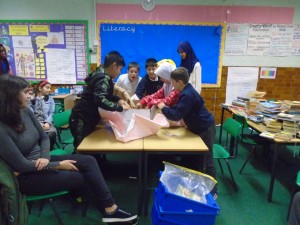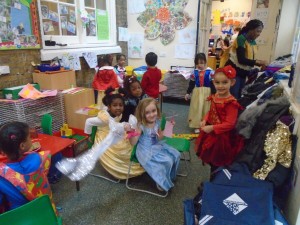 As part of their learning and research into the Ancient Greeks, Year 5 went to the British Museum to study real artefacts for that era.
On Wednesday 22nd February, we went to the British Museum to learn about Ancient Greeks. We saw Greek Pottery; a coffin shaped as a bath tub; real golden coins and a few other artefacts. We had lots of fun and enjoyed looking at all the different artefacts in the museum.
Ella, Reanna and Zara, Year 5