Last week Year 6 visited London City Mission as part of their R.E and History learning to discover Faith In Action Victorian Style.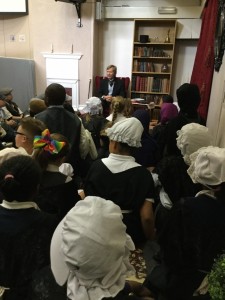 We dressed up like Victorians and we saw old buses and we drank tea. In the Victorian times they would sleep on a rope. we went back in time to explore the 1800s. Aness
On Thursday 18th May, Year 6 went to London City Mission to dress up as Victorian children and went back in time. When I was all dressed up, two of the people said I looked and sounded like Oliver Twist, which I was proud of. While we were there, we tried some foods that children around that time would have had for tea, but it had no sugar! David
On Thursday 18th May, Year 6 went to London City Mission to dress up as Victorians, and we learned a lot about how they sleep. Did you know they got hit when they didn't do their jobs? They had to go up a chimney and clean it bare foot with a brush. We went into a class and the teachers taught us handwriting. We couldn't learn with the boys in 1800s. Shannon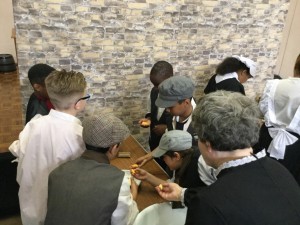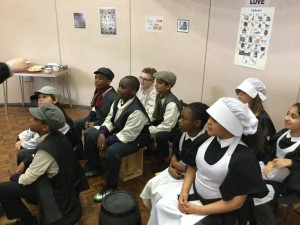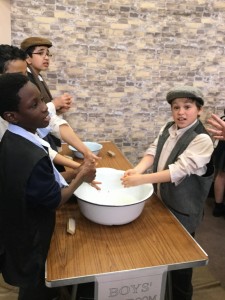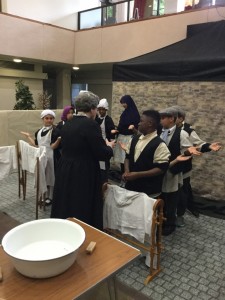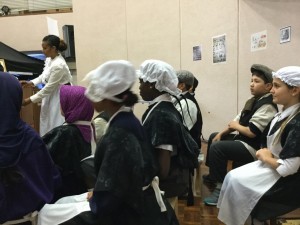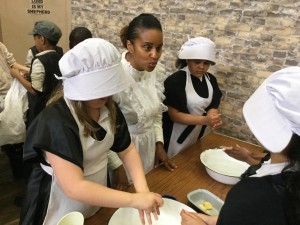 So many parents came to read with their children, we had to borrow chairs from other rooms! Thank you to all who came. It was lovely seeing you spend quality reading time with your children.
I liked reading to my mum. Because it was fun and I liked it. I liked to read to my mum, because at home she reads to me. At home I read to myself. I learned how to say some words.
I enjoyed the book little farmer joe. I enjoyed Harry and the Dinosaurs make a Christmas wish.
I liked to read with my Mummy because it was fun.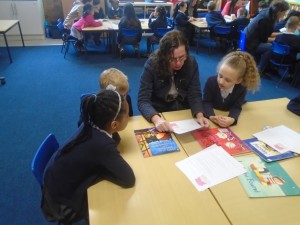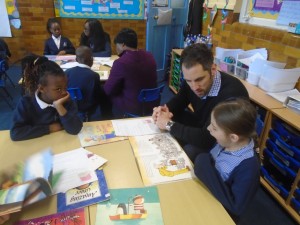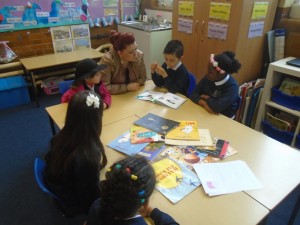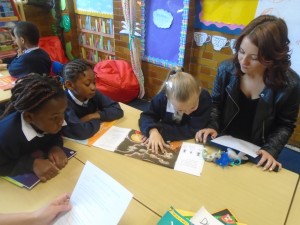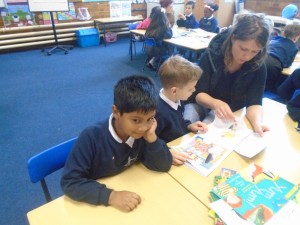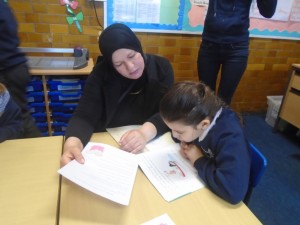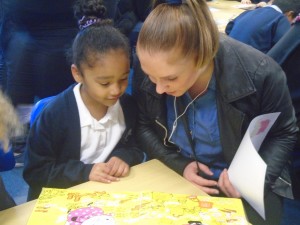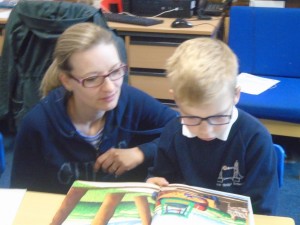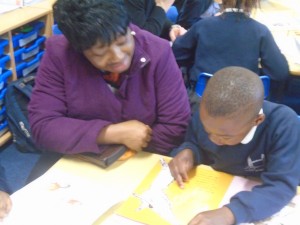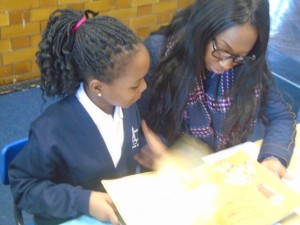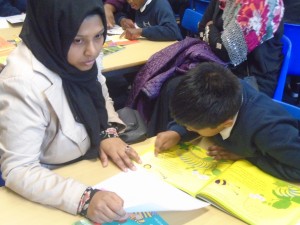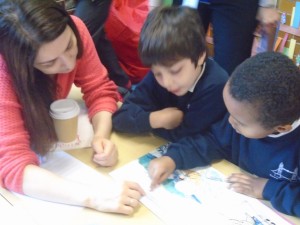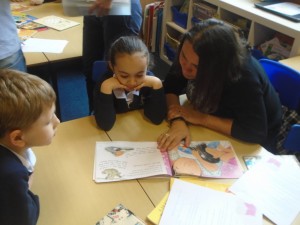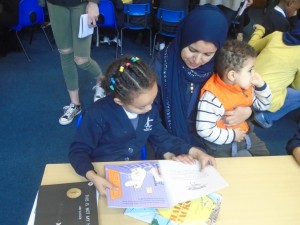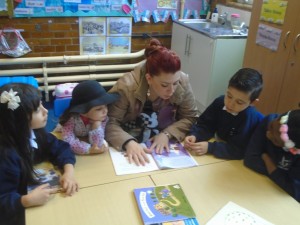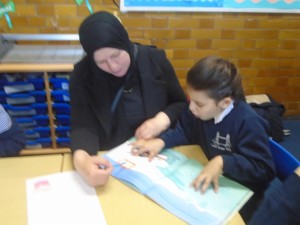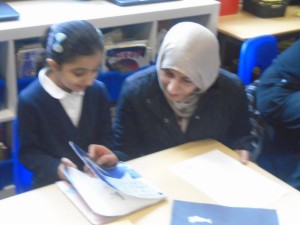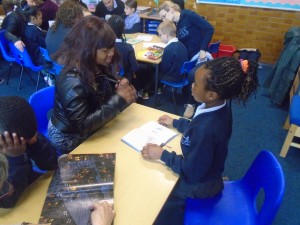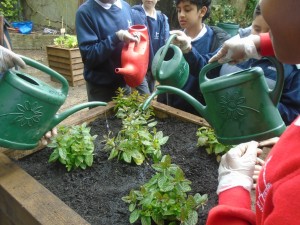 Some of the Year 5 children were asked to help out with the Herb Garden at Snowsfields School.
Today we went to Snowsfields so that we could garden. When we arrived there, we split up into groups of two. The first group planted sage and the second group that I was in, we were planting mint. When we finished planting we joined with the other groups and we all planted broad beans. After we finished, the other group watered the plants, while the group I was with took a photo with the volunteers. Then we said thank you.
Leroy
Today's trip was really fun and exciting! We went to Snowsfields to do some gardening! We planted some sage, mint and broad beans. We each got some gloves for our hands. When we were ready they gave us each some hand forks and trowels. We got into groups of four and my group planted sage. The other group did mint. Then all of us did the broad beans. We watered the crops and got ready to go.
Aya
Today we went to Snowsfields in order to help with the Snowsfields' garden. We split up into two groups. The group I was in planted mint. The other group planted sage. After we finished, we planted broad beans. The other group was watering the plants, while we took a picture with the volunteers from Costain.
Emmanuel
Today 8 children from Year 5 went on a thrilling trip to Snowsfields to do gardening with Costain. When we entered the secret garden we explored it. We were given hand forks and trowels to dig the soil. We planted sage plants, mint plants and broad beans. This adventurous trip was amazing. Thank you very much1
Alexis
Today we went to Snowsfields. We did gardening in groups of four and planted sage which was really fun. The other group planted mint and sage which smelt nice for me. Some adult gardeners took some photos of us in a group smiling. My favourite part was when I planted the sage with my partner Denis.
Zaid
We went on an exciting trip and travelled to Snowsfields to explore some gardening. We spotted two frogs emerging from the pond as we walked around the surrounding nature garden. A little while later, we started planting the sage, mint and broad beans. This is where it got messy! We loved all the greenery we had planted. In the end, we thanked the gardeners for helping us all the way. Afterwards, we had to wash our hands and leave the area. I had fun!
Athena
8 people went to Snowsfields and got to garden. Denis and Zaid enjoyed gardening plants and watering them. In groups of 4, the first plant we planted was called a sage. The other group planted mint. Afterwards we planted broad beans next to a stick and then watered the broad bean and the sage. In the beginning, we played hide-and-seek and took lots of photos.
Denis
Last Friday we went to Snowsfields to do some gardening. First we got some tools, which were trowels and a hand fork, and next we went to the mint plant. It smelled awesome. Secondly we dug a hole with our tools and put the plant in the hole. After that, we all gathered up and put some tall twigs into the soil and cut them with some giant scissors. Finally we made a hole with our fingers and planted the broad beans.
Alma